TNW is live from the United Center and following the opening pyrotechnic display we see a glimpse of the crowd followed by going straight to commentary.
Jim Ross
" Ladies and gentlemen we are live and I can't express that any more literally than by pointing out this capacity crowd. What a night this is shaping up to be."
Michael Cole
" Oh please, you say that every week. But there is a lot of buzz backstage and all over the web after the shocking reveal last week."
The King
" That was the icing on the cake. We crowned a new world champion, Dean Ambrose won it after defeating Seth Rollings, Undertaker , And Daniel Bryan. Like him or hate him, he never gave up."
Jim Ross
" Congratulations to the Ambrose for adding another accolade to his prestigious career. But how about Orton winning the championship successfully? my god we were inevitably in for nothing less than a slug gest and we weren't disappointed."
Michael Cole
" Randy isn't letting go of that title so soon. And even though Brock is a former world champion, he was no match for the viper."
Jim Ross
" That's cutting the big man down, but instead of gracing that opinion with a response how about the world championship match.  Ambrose wins the championship in a completely exhilarating match to end the show."
The King
"Impact almost ended the show on that note so let's get to the part that shocked-"
Randy Orton's theme song plays to a loud and clear mixed reaction from the crowd. He appears on the entrance ramp raising both his arms up like with the title around his waist if he's expecting a hug.
As he continues to make his way to the ring, the reborn Legend Killer grabs a microphone from the timekeepers. He then gets in the ring, shaking his head at the fans. How could they possibly understand where he was coming from when it came to his decisions? It's just impossible. Eventually his theme fades out and Randy Orton is able to speak.
| RKO | Randy Orton | RKO |
My name is Randy Orton and in case you forget who I am, let me remind you. I'm the legendary Legend Killer who is making you forget about the heroes that you used to cheer for. I'm the future of this business because I am a third generation superstars, but I'm not like the other people who use their family to make them seem..credible. We've had guys like Cody Rhodes, Ted Dibiase, The Rock, and many more walk into TNW, talking about who their father is and why they'll succeed. I'll tell you right now that my father was Cowboy Bob Orton. I'm not ashamed of my father, but I am ashamed of his legacy.
With Bob Orton being a legend that the fans love, Randy Orton begins to get booed. However, the look on his face doesn't change one bit.
| RKO | Randy Orton | RKO |
You know, I'd love for one of you to tell me why I should be proud of what my father did. Sure, he won championships in a lot of territories, but who remembers the territories now? Not a single person. Nobody remembers who won the Triple-A championship in baseball because those are just the minor leagues. Maybe for sorry middle aged men and women, that'd be great. You can tell your kids about how daddy and mommy won something that doesn't matter outside of their neighborhood. That way those kids can build on their parents' "legacy", which really means that they're building their lives based on past failure. By the looks of everyone here tonight, there's a lot of people with failures for parents.
The crowd boos, but Randy just ignores them as he continues to speak.
| RKO | Randy Orton | RKO |
Like I said, my dad was a failure too and I'm not proud of it. However if you're anything like me, you'll be able to have a successful future regardless of how badly your parents screwed up. Only issue is that you're nothing like me. I was blessed to be as athletic as I am. I definitely didn't get my father's genes because you don't see me with a fake cast on my arm, do you? Don't get me wrong because old Bob Orton was a good wrestler, but he was an awful superstar. I'm a superstar, I'm an icon, and I am the future. That's just how good I am and I'll rub it in your face just because I can. If you don't like it, you can shut the hell up and respect me for how good I am......
A familiar theme song is played as everyone waits to see if it's real he camera spins the arena and at the top of the arena is the icon Sting. The crowd begins cheering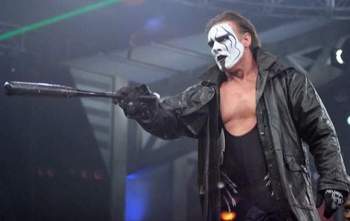 Sting: Randy you don't deserve to be here, You don't deserve that U.S title hanging around ya waist, you're a disgrace to you're family and this company. You say you're a legend killer so why am I here then. But it's ok I will prove to you in that ring tonight why you're self proclaimed.
The crowd erupt with cheers as Sting theme song plays, Orton and Sting stair down as TNW fades to break